Scoliosis Treatment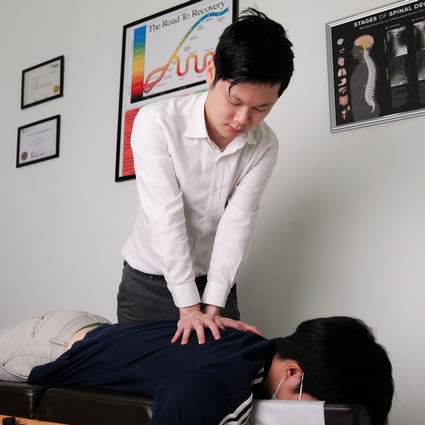 Defined by curvature and rotation of the spinal bones resulting uneven hips and spine, this scoliosis causes distress to the patients physical and mental wellbeing.
There is two major types of scoliosis. A C-Shape Curve and an S-Shape Curve. Most scoliosis cases are idiopathic, which means no specific cause is successfully identified. Though, posture plays an important role to prevent scoliosis.
Signs and Symptoms
Early stages of scoliosis are usually not noticeable unless you get your spine checked properly by a chiropractor. Scoliosis can progress and become worse very quickly during adolescence, therefore, early management and correction are paramount important. Statistically, young females are more likely to acquire scoliosis compared to their male counterparts.
During the growing stage of adolescence, chiropractic adjustment works best to correct the curvature of the spine as the endplates of the spine are not fused yet. Until the spine fully matures at puberty, that is the best period of time to make the most changes to the spine.
Long-Term Impact
As posture can also cause the spine to curve, it means people can also get scoliosis later during their adult life. Slipped disc and spondylosis are the main causes of adulthood scoliosis. Both issues can be corrected with a chiropractic adjustment.
Book Your Visit
If you have been diagnosed with scoliosis are suspect you may be dealing with it, we'd love to meet you and help you with natural chiropractic care. Get started today by booking an appointment with our team.
CONTACT US »

Scoliosis Treatment, Subang Jaya | 03-8011 2400